Minto Gardens has a variety of accessible and adaptable apartments onsite. Their accessible apartments are designed with extra support to help you live independently. Their adaptable apartments can be configured with extra support should you need it in the future. Lower bench heights, bathroom grab rails and wheelchair spaces are just some of the features designed to make living in your own apartment that much easier.
Minto Gardens offer two apartment types. Accessible or Adaptable Retirement Living. Accessible; where you need accessibility right now, and Adaptable; where you may need it later in life.
1. Adaptable
The apartment can be configured with extra support should you need it in the future. For example, if you need grab rails in the future, it is a simple installation, because the wall structure is designed to retrofit them. The same applies for the shower chair if you wish to have it attached to the wall.
This also ensures it is a cost-saving exercise. Why? Because the tiles and walls need to be removed to support the weight-bearing that grab rails are required to offer.
Because Minto Gardens thought about this at the time of construction, there are the right structural supports behind the bathroom tiles to install grab rails, and can then be fitted simply and inexpensively.
2. Accessible
These apartments are designed with extra support to help you live independently.
So let's look at the two options room by room for this Accessible Adaptable Retirement Living at Minto Gardens.
The Kitchen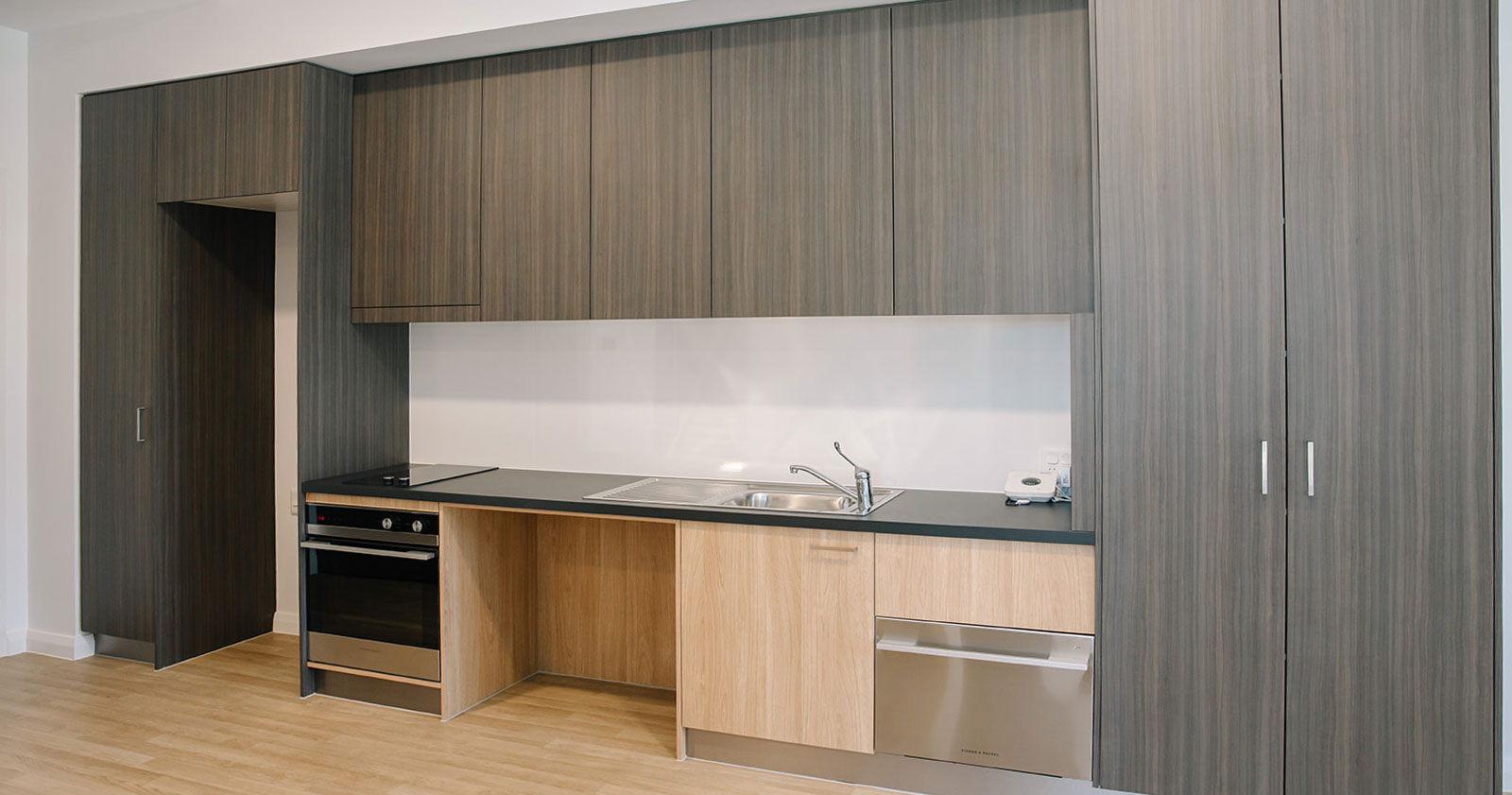 Adaptable: There is space beneath the bench so it can be converted to accommodate wheelchair space if needed.
Accessible: There is space beneath a bench for wheelchair (Lower countertop – 800mm).
This way, there is the opportunity to cook up a treat in a safer, functional environment.
The Bathroom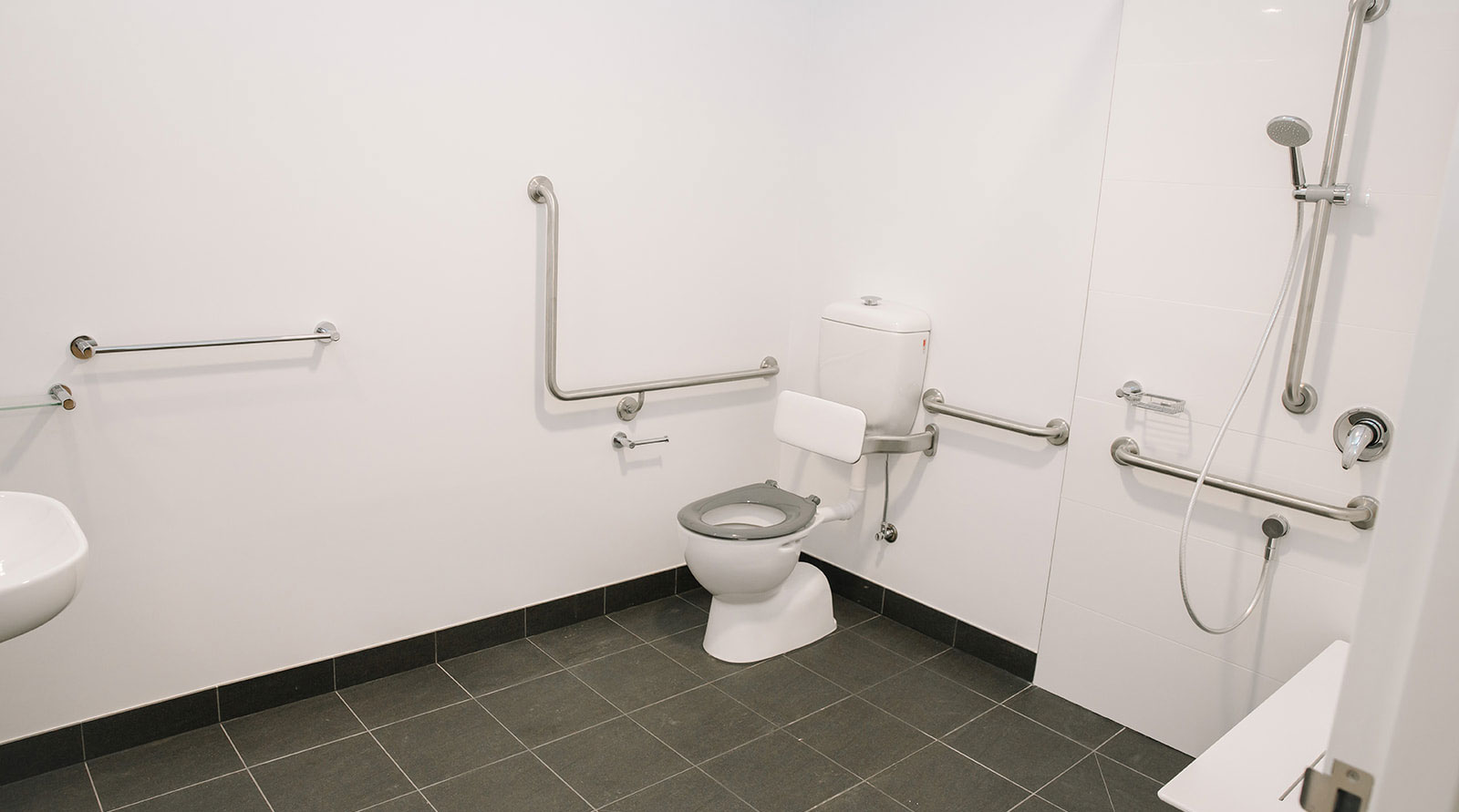 Adaptable: There is structural sheeting in place for future grab rail installation. And also for a shower bench.
Accessible: Grab rails are installed, and there is a removable shower screen and changeable toilet fixtures, should you require an accessible toilet. Or, you may just prefer the nicer looking standard toilets, and use a removable height-adjustable toilet chair.
The Bedroom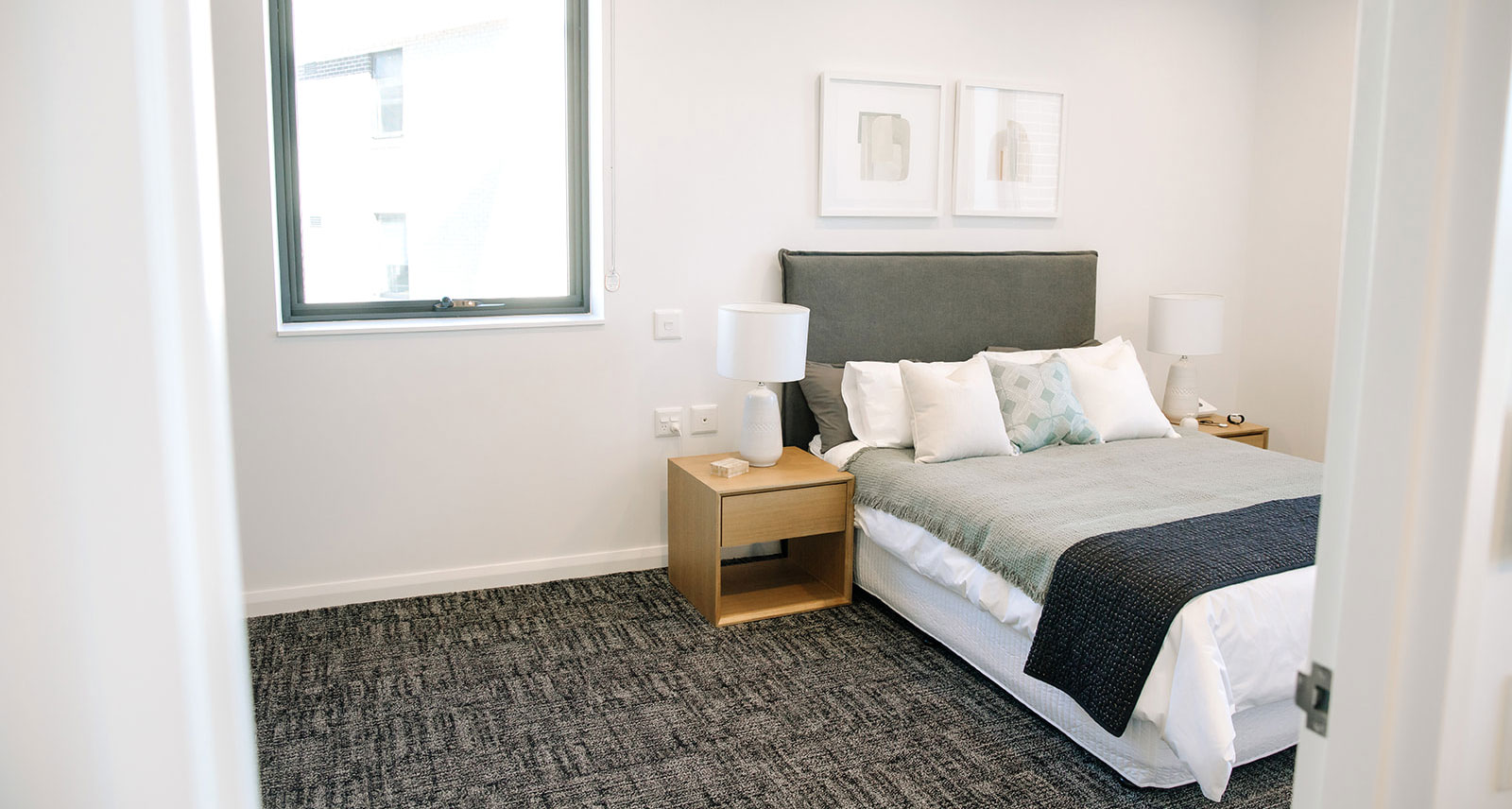 Choose from a range of 1, 2, and 2 plus study bedroom retirement living apartments at Minto Gardens Accessible Adaptable Retirement Living. You'll love the modern finishes throughout and open-plan layouts. Each pet-friendly* apartment offers a maintenance-free retirement lifestyle relieving you of chores such as cleaning an entire house, backyard upkeep, and more. Easy access to the local bus stop means you're only a short bus ride away from the local shops, cafes and train station.
Minto Gardens is the flagship village for Anglicare's Wellness Program, which is aimed at helping you live independently in your own home for as long as possible. All residents are entitled to receive two annual health checks from our Wellness Consultant (qualified nurse) and one hour per fortnight of domestic support, such as cleaning, ironing, dog walking or assistance with shopping.
Entertain family and friends in their onsite café, community spaces or alfresco BBQ areas, along with a playground for the grandkids. The landscaped gardens offer a peaceful setting, perfect for a gentle stroll, exercising in the outdoor gym or stretching your pooch's legs in the on-site dog park – yes, this retirement village welcomes pets*.
Enjoy a range of facilities and social activities:
Multiple community spaces
Café
Dancing and fitness groups
Book and knitting clubs
Bible fellowship groups
Or whatever piques your interest!
There's something wonderful about living in a brand-new home and that's exactly what you'll love when you make the move to the new retirement village in Minto.
Learn more here: https://mintogardens.org.au/